Schedule an appointment with AC Plus Heating & Cooling for trusted AC, furnace, and HVAC services. Call us at (760) 243-4440 to service your HVAC in Redlands, CA!
Are you looking for a reliable team of HVAC experts who can handle all your heating and cooling needs? Look no further than AC Plus Heating & Cooling.
As a dependable HVAC company in Redlands, we proudly provide comfort and safety to your home with our expert team through our AC, heating, and air quality service. Whether you need a new central air conditioner or are ready to switch from a furnace to a heat pump, we're the team to call.
Our customer-focused business holds every employee to high work quality and professionalism standards, so you can count on a courteous, professional, and knowledgeable technician every time you call us. We establish a lasting relationship and be the HVAC contractor you turn to time and time again.
Many Redlands businesses and homeowners choose us for heating, ventilation, and cooling services. Read our customer reviews to see what they have to say about our service.
AC Repair in Redlands & Surrounding Areas
Have you been searching for "AC repair near me?" The search stops here because AC Plus Heating & Cooling provides fast and affordable AC repair in Redlands, CA. We understand how important it is to get immediate relief from hot weather and humidity and are committed to finding an effective solution.
You probably rely on air conditioner units to keep you cool and comfortable during the hot summers in California without thinking about how much wear and tear your AC stands up to. It can be frustrating and stressful when your unit unexpectedly breaks down or you finally need to replace it.
At AC Plus Heating & Cooling, we have extensive knowledge of countless makes and models, and we're well-versed in the top brands, so we can find a suitable choice for your budget and needs.
---
Helpful Article: Warning Signs That You May Need Emergency AC Repair
---
What Other AC Services Do We Offer?
AC Installation
AC Maintenance
AC Replacement
Package HVAC Unit Installation and Repair
Ductless Mini-Split Installation and Repair
Whether you are looking to upgrade your existing air conditioning system to a more advanced model, or need someone to clean your AC's condenser coils, our team is ready to help. We respect your home and time and will quickly complete the job.
HVAC Repair in Redlands, CA
If you live in the Redlands area and find yourself searching "HVAC repair near me," contact AC Plus Heating & Cooling for solutions from trusted, certified, and licensed technicians. We can install a new AC in your new construction or repair any type of HVAC in Redlands, including older systems. Throughout the entire repair process, we will keep you in the loop and ensure you are comfortable before performing any work in your home.
Your HVAC system plays a significant role in maintaining consistent temperatures, good air quality, and indoor comfort. An efficient system should not make strange or loud noises, experience leaks, need frequent repairs, or unexpectedly skyrocket your energy bills. If you notice any of these issues, call our AC Plus Heating & Cooling for HVAC repair.
During a comprehensive examination of your HVAC system, we will first look for any significant concerns or issues that need immediate assistance. We can replace worn or broken parts, ensure they are compatible, and recommend how to keep your system running smoothly for years to come.
Expert Redlands Furnace Repair
Furnaces help keep you warm during harsh winters, but you must put the proper work into them for optimal functioning. Stop searching for "furnace repair near me," and call Redlands' top furnace repair company: AC Plus Heating & Cooling.
Scheduling a furnace inspection before the winter months is an excellent way to ensure it works properly. You are also less likely to require furnace repair in Redlands, CA, because our contractors will catch any problems and address them quickly before they escalate into a furnace breakdown. You can also sign up for one of our maintenance plans to take the headache out of remembering to schedule furnace inspections.
With our experienced technicians and knowledge of both gas and electric furnaces, we guarantee satisfaction on every service call. We will examine every aspect of your furnace and can make recommendations for how to address wear and tear.
Our Redlands HVAC Services
AC Plus Heating & Cooling has a satisfaction guarantee and warranties on all our work. Customers rely on us for their heating and cooling needs because of our reputation for excellence and top-quality support. We are the best business to call for fast HVAC service in Redlands, CA! We offer a wide variety of residential and commercial services throughout California:
Air Conditioning Services
AC Repairs
Ductless Mini-Splits
Air Handlers
Package Units
Heating Services
Furnaces
Heat Pumps
Heater Repairs
Indoor Air Quality Services
Air Purifiers
Humidifiers
Duct Cleaning
Regularly replacing the air filters in your HVAC system helps you avoid premature breakdowns, clogs, strained systems, and high energy bills.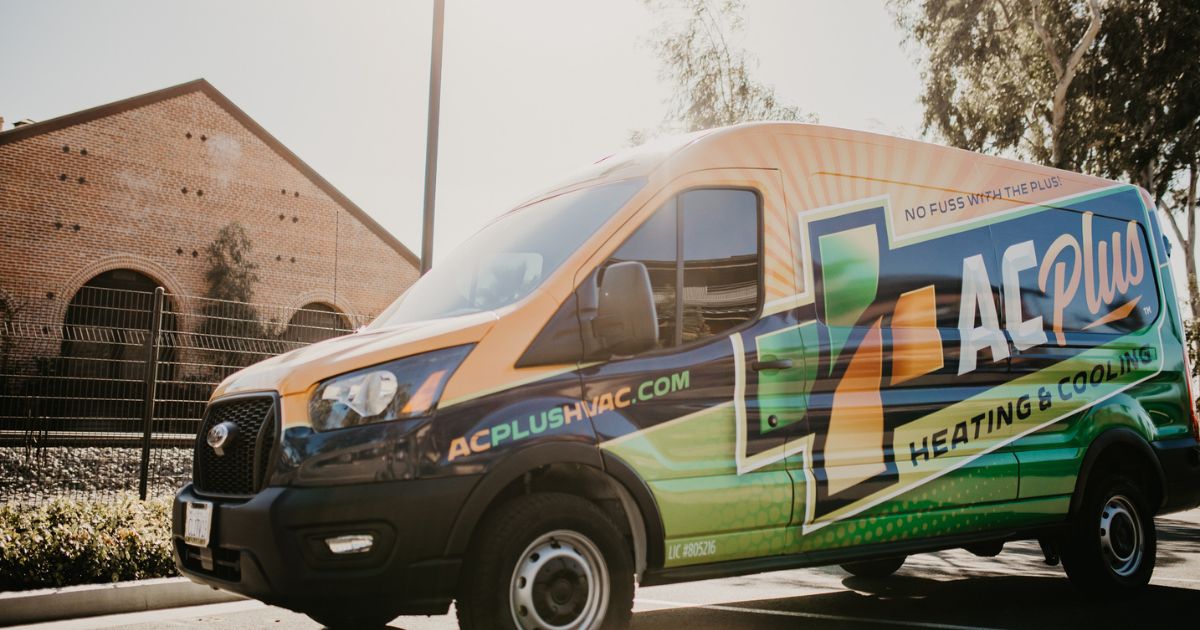 Indoor Air Quality
Despite having effective HVAC in Redlands, CA, you might suffer from dusty, dry indoor air. It's easy to overlook your indoor air quality, but poor air can lead to health problems, mold, mildew, and allergies. Let us assess the air quality of your business or home and implement targeted air quality solutions to help you breathe easier in your Redlands home.
There are many ways to breathe better and to keep you and your loved ones safe. We can help improve indoor air quality with humidifiers, air purifiers, duct cleaning, and ventilation, if necessary. Too much humidity and stale air can contribute to respiratory issues and poor airflow, but our contractors can find effective and affordable solutions, so call us today to improve your indoor air quality!
Flexible Financing Options for HVAC Replacement
We understand how expensive and overwhelming it can be to book HVAC services. Instead of putting off that AC repair or waiting until your furnace gives out, you deserve quality services and long-lasting solutions at affordable prices. We accept many types of credit cards, and we can also work with you to set up a financing plan. With easy online account management and flexible payment options, you won't have to worry about affording the HVAC services you need.
From heat pumps, air purifiers, ductless mini-splits, and furnaces to AC repair, installation, or replacements, we want you to schedule our services confidently.
Preventative Maintenance for Your Heating & Air Conditioning System
You can increase the lifespan of all your HVAC equipment by scheduling annual inspections and preventative maintenance. Proper maintenance by our HVAC professionals catches issues (if there are any) early on and addresses them before they worsen. Call us to schedule routine maintenance and prevent premature breakdowns of your air conditioner, heater, or furnace.
Want to learn more about us? Read more about our helpful team, then give us a call to schedule service.
Choose AC Plus Heating & Cooling For Your HVAC Needs in Redlands, CA
As a locally owned and operated HVAC company, we pride ourselves on providing excellent customer service and being a resource Redlands residents can depend on with their questions, comments, and concerns.
We are the #1 choice because of our:
24/7 availability for repair: No matter if it is night or day, a expert technician will always respond to you quickly. We understand emergencies and unexpected breakdowns happen unexpectedly, and you can call us anytime for a fast solution.
Respectful and attentive professionals: Every employee here at AC Plus Heating & Cooling is passionate about delivering quality work promptly and enjoys helping others. You will enjoy our friendly and helpful demeanor and remember the experience.
Fair pricing and financing options: Everyone should have total home comfort in Redlands. We want everyone to access heating, cooling, and air quality services for their health, safety, and well-being, so we offer flexible payment and financing options.
The choice is clear for a trusted AC repair and installation company in Redlands, CA. Request our services via our easy online form or call AC Plus Heating & Cooling at (760) 243-4440 for AC and heating service. Count on us to improve your HVAC in Redlands.