Tips To Prevent A Heating Breakdown
---
Schedule service with one of our expert heating & cooling technicians.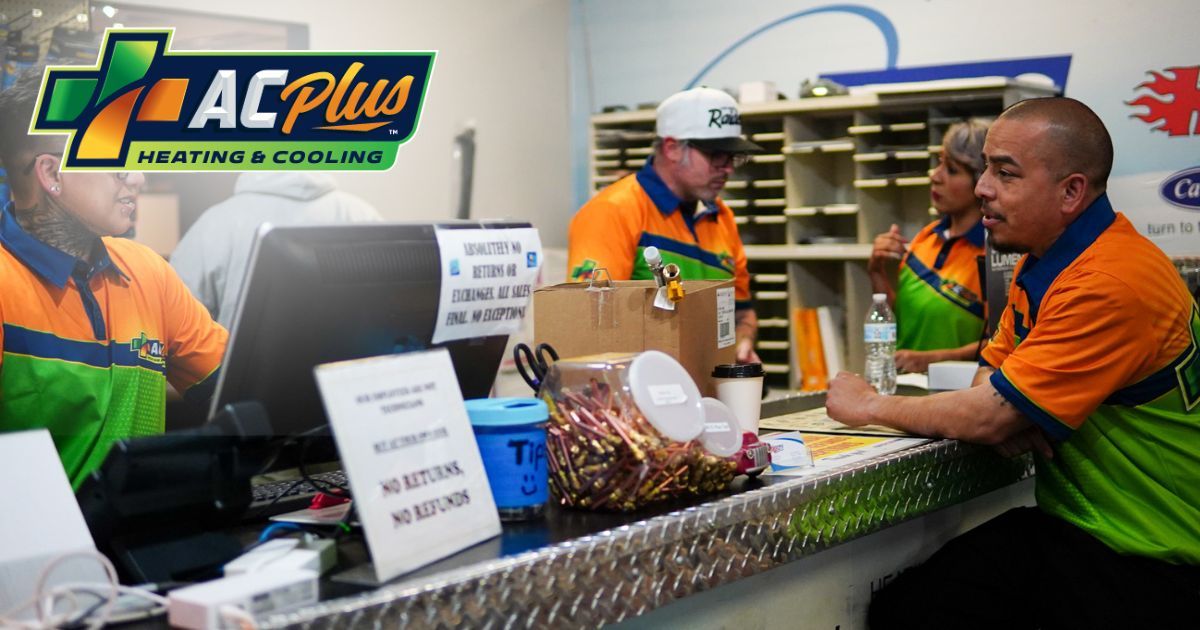 When temperatures are low in Victorville, CA, homeowners rely on their heating unit to keep their home warm and cozy. However, all heating systems can malfunction from time to time. A heating system breakdown in the middle of a cold front can leave your home chilly and uncomfortable. An AC Plus technician can be there in no time to restore your home comfort, but there are ways to prevent this uncomfortable situation from happening. In this blog, we discuss tips for homeowners to prevent a heating unit breakdown in Victorville and surrounding areas.
What Causes Heating Unit Breakdowns?
There is never a good time for your heating system to break down and leave your home uncomfortable, but AC Plus Heating & Cooling can quickly repair your unit. Heating systems can break down due to a variety of reasons depending on the type of heater. A common reason for heating units to breakdown is because a malfunction or obstruction is causing the unit to overwork itself. Additionally, heating unit breakdowns can be caused by clogged air filters, fuel supply issues, loss of power, and multiple other causes.
Signs Your Heating System May Breakdown
Heating system breakdowns often happen unexpectedly and at an inconvenient time. Your heating system often shows signs it will break down soon. Paying attention to the warning signs can avoid an uncomfortable and frustrating situation. Below are five signs homeowners in Apple Valley and surrounding areas experience before their heating unit breakdown.
Old Age
High Utility Bills
Excessive Dust
Unusual Noises
Inconsistent Temperatures
Ways To Prevent A Breakdown
If you take care of your heating system, it will take care of you. Properly maintaining your heating unit can help prevent an uncomfortable breakdown. Below are tips to avoid a heating system breakdown.
Regularly Change Air Filters
Schedule Heating Maintenance
Keep Unit Clean & Clear
Keep Air Vents Open
Seal & Insulate Your Home
Regularly Change Air Filters
Maintaining clean air filters throughout your home is one of the easiest ways to prevent a heating unit breakdown. If your air filters are clogged, your heating unit struggles to push air through the filter pores. The unit will use more energy attempting to push air through and meet the thermostat setting. This process will lead to a breakdown due to an overworked system or its inability to get air through the filter. We recommend changing your air filter at least every 90 days to ensure unit efficiency and good air quality. Additionally, be sure to change your furnace filter if your home uses a furnace system.
Schedule Heating Maintenance
To avoid a heating unit breakdown, we strongly encourage having your heating system serviced once a year. Heating units often break down due to underlying issues that are hard to predict. Scheduling heating maintenance with AC Plus allows one of our trained technicians to thoroughly inspect your heating unit. We repair components as needed and perform a variety of preventative tasks to ensure your comfort remains all season long. The type of heating system your home utilizes will determine specific tasks performed, but every home receives the following heating services:
Change/clean air filters
Lubricate all moving parts
Confirm/tighten electrical connections
Test thermostat
Inspect internal components
Much like cars need oil changes, heating units need maintenance to continue working efficiently and effectively. While we recommend scheduling heating maintenance in the fall, it is never too late to start taking care of your heating unit. Give us a call to schedule heating maintenance in Victorville, CA and surrounding areas!
Keep Unit Clean & Clear
Whether your heating unit is located inside or outside, it is important to ensure it remains clean and clear of debris and personal items. If your unit is outside, we recommend weekly checking the status. Remove tree branches, leaves, trash, and other debris to ensure your heating unit has proper ventilation and airflow. If your unit is inside, we recommend keeping personal belongings at least 30 inches away from the system. The unit needs room to breathe and should not have anything on top of or closely surrounding the system. Ensuring your heating system is clear and clean can avoid the unit overworking itself and breaking down.
Keep Air Vents Open
Contrary to popular belief, closed air vents will not save money on heating costs. We understand the logic behind not heating unused rooms, but closing air vents can only create more problems for your heating unit. Heating systems evenly distribute air throughout the air ducts, and closing a vent throws off the system's balance. If you close an air vents, it creates excess pressure inside the air ducts and can lead to air leaks, ductwork damage, and a strained heating unit. The more strain your unit experiences, the more likely it is to break down.
Seal & Insulate Your Home
If your home has air leaking through cracks or due to lack of insulation, your heating unit can become overworked. Air can escape through cracks in windows, doors, and other areas and increase the workload for your heating unit. Similar to air leaks, air can escape through your roof or other areas without insulation. If air is escaping, your heating unit works harder and sometimes constantly to meet the thermostat setting. Along with helping your heating unit perform efficiently, you can save money and comfort by sealing and insulating your home in Victorville, CA.
We love visiting our customers, but we hope it is not in the event of an uncomfortable heating breakdown. Your comfort is our top priority, so we recommend considering these five tips to avoid a heating breakdown. If you experience a heating unit breakdown in Apple Valley or surrounding areas, give us a call! We can quickly repair and restore your home comfort in no time.
---
Written By Matt Postoian
Matt Postoian has been in the HVAC industry for over 20 years and is dedicated to providing homeowners in Southern California with total home comfort.